How was The Great Game of Kashrut born?
Here's the concept evolved:
Originally we thought it would simply be a card deck. We tried labeling everything with  ב  for basar/meat and ח  for chalav/milk. That didn't work…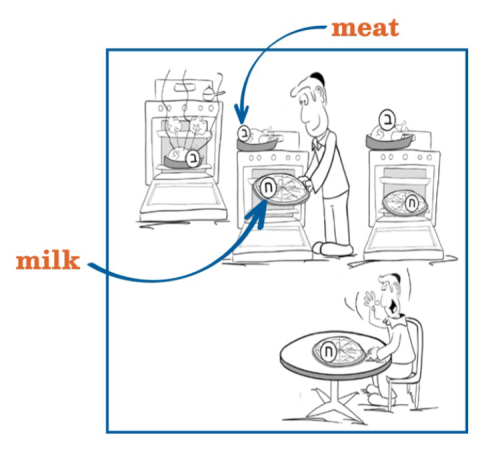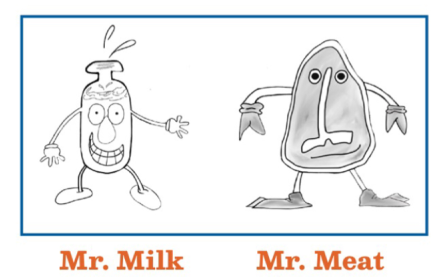 We'd created milk and meat characters, but realized it would only cause confusion.
Then we saw that it was much more engaging and relatable to include real people in real life.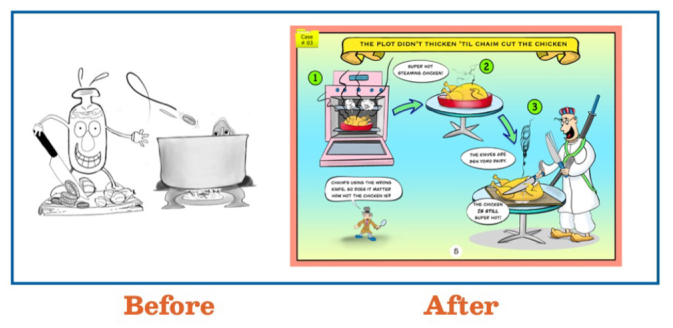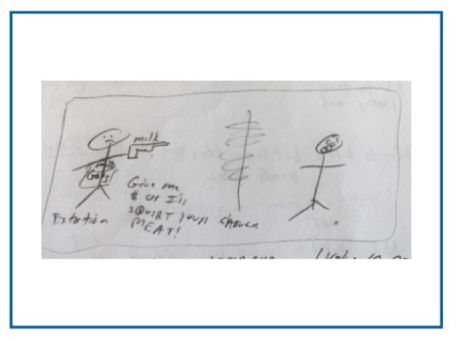 Sometimes we started out with crazy ideas (Rabbi Goldman's stick figures).
Rabbi Channen would then do his magic, producing version after version.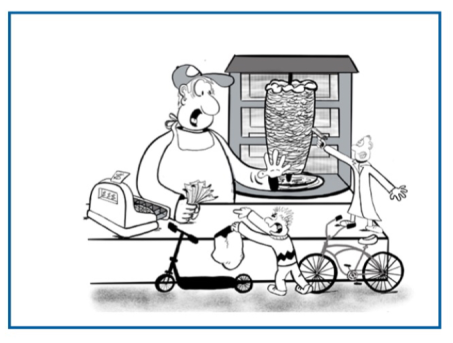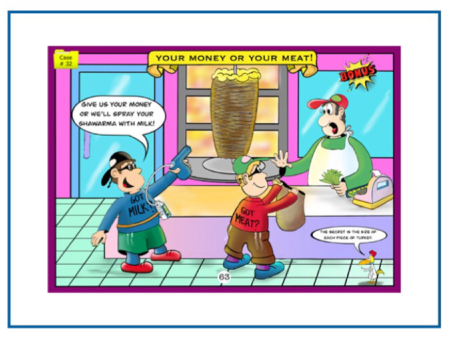 For over four years the book continued to evolve — until it was ready to share with the world.
After years of trial and error, hundreds of tests in real life (with the least engaged or educated to the most learned Talmidei Chachamim of our generation), we finally discovered what works and what doesn't. At last, we are delighted to share with you The Great Game of Kashrut.
The Great Game of Kashrut enables you to visualize each case in a fun and lively way. But it doesn't stop there. It leads you, step-by-step, through the development of the halacha. The Great Game of Kashrut accesses both sides of the brain, the visual/
creative well as the analytical/rational.
May you be blessed to have great success on your journey as you embark upon The Great Game of Kashrut!
 – Rabbi Don Channen & Rabbi Yaakov Goldman
The Great Game of Kashrut is where the best of two worlds meet.
Rabbi Don Channen received his first Semicha from Rav Yosef Azran, of the Beit Din of the Eida Charedit. Later, he received Semicha from the Chief Rabbis of Israel: Rav Yisrael Meir Lau and Rav Eliyahu Bakshi Doron; Rav Yehuda Deri, Chief Rabbi of Be'er Sheva, Rabbi Mordechai Goldstein, Rosh Yeshiva Diaspora Yeshiva, Rav Shalom Messas, Av Beit Din of Jerusalem and HaGaon Harav Ovadia Yosef.
For the past 30+ years he has served as a Moreh Horaah for kashrut in his home community, given Yoreh Deah shiurim to hundreds of students and ordained many students for Semicha. Many of his talmidim have chosen to pursue careers in the rabbinate, chinuch, chaplaincy and kashrut supervision. In addition, he has set up learning chaburas in the United States, England, South Africa, Australia and Israel.
Rabbi Channen has written and illustrated many books, including: "Tallis Ends and Other Tales,"
portraying difficult Sugias in Baba Kama, Baba Metzia and Baba Basra, Iggeret HaRamban and Birkat Hamazon with commentary and illustrations, and has collaborated on other books, including "An Illustrated Guide to the Laws of Shemita."
Rabbi Channen recently published a book based on his teachings at Yeshiva Chonen Daas called "Keeping Kosher in the Kitchen" — "The Great Game of Kashrut" is an offshoot of that publication.
Rabbi Channen has developed a unique style of teaching that stretches students' abilities to perceive and absorb difficult concepts. He has gained international acclaim as a dynamic teacher whose classes are innovative, intense and interactive. Yeshiva Chonen Daas is proud to present his new Semicha course which will hold the attention and develop the skills of students of all levels.
Rabbi Channen lives in Ramat Beit Shemesh with his wife, children and grandchildren.
Rabbi Yaakov Jon Goldman is a natural innovator of experiential education. In The Great Game of Kashrut, he renders complex concepts into engaging, digestible content.
Along with Semicha, Rabbi Goldman has degrees and certifications in psychology, communications, business and coaching. He's gained a unique view from traveling the world, studying Eastern and Western religions. Trained in yeshivot in Israel and America, he is committed to sharing insights that adhere to the law and spirit of the Torah. He is the founder of the company www.MyTurningPoint.com, which trains and facilitates leaders, families and teams to actualize their greatest potential, both personally and professionally.
As one of the founding directors of "Zooz," Rabbi Goldman created cutting-edge programming and helped facilitate Jewish outreach for young professionals. He originated "The Box of Plagues," an interactive Passover Seder. He is a co-founder of "The Shmira Project," which has enrolled over 70,000 participants to support Jewish soldiers who put their lives on the line to protect Israel during times of war. His passion is learning and teaching Torah. He loves playing ultimate frisbee, facilitating individuals and masterminding groups for nonprofit leaders, publishing, hiking around his home in Israel and enjoying life with his wife, children and grandchildren.
The Great Game of Kashrut is where the best of two worlds meet.
Rabbi Don Channen: is a Rosh HaYeshiva and pioneer in Jewish education. He knows the best way to teach kashrut as he has tested and given Semicha to over 700 Rabbis around the world. He is the author of Keeping Kosher in the Kitchen and is a brilliant illustrator.
Rabbi Yaakov Jon Goldman: is an internationally recognized expert in creating award-winning content, gamification and training. He's gifted in simplifying complex materials in fun, engaging but meaningful ways. 
The Great Game of Kashrut is where the best of two worlds meet.
Take the Gold Level Crash Course on Kashrut:
This is a course that will teach you the basics of the underlying laws and concepts of Kashrut in a fun and engaging way. Earn a Certificate Of Completion upon completion.
Become a Certified Kashrut Teacher:
Learn how to teach others using The Great Game of Kashrut as your curriculum. You will receive handouts, a teacher's guide and presentation materials that you can use in the classroom or Shabbat table.
Enroll in the Semicha Program
Rav Channen has taught and given semicha to over 700 Rabbis around the world.
Have Rabbi Channen or Rabbi Goldman as a speaker or Scholar-In-Residence for your group or Shabbaton. We bring depth, fun and engagement to every program.
Make a donation — Contact:
Enjoy one of the Taste of Kashrut experiences.
We provide programs for groups, from one hour to full-day experiences.  We provide fun experiential education. A TASTE OF KASHRUT/The Great Game of Kashrut Day in Israel. This is fantastic for groups visiting Israel, or organizations/schools in Israel. All programs can be for 1 hour, 3 hours or a full day. Learn about Kashrut with your group. It includes; tasty foods, adventures, touring, interactive classes, a scavenger hunt in the shuk, understanding Hekshersim in Israel…and more.
Taste of Kashrut in the Shuk:
Explore the Shuk in Jerusalem in a whole new way. It's delicious, fun and fascinating.
Taste of Learning for 1 hour, 3 hours or full day
Fun interactive class
See hands-on kashrut halachot
Includes a copy of the book
Prizes
Yummy food treats
This includes a visit to the best kosher food suppliers in the world. Includes tasting and seeing how the foods are produced. Understand the what's, why's and how of kosher food.
Wineries: Taste the best kosher wines in the world. Get an insider's view to wine production
Chocolate factory or milk production from the cows to the carton.
Shmita farms and their inspiring stories.
Delicious, gourmet restaurants and Kashrut